Dream 1
I had one or more dreams that involved language learning and trying to use the language or languages that were being learned by speaking to people in the language(s) et cetera, Esperanto was probably the language or one of the languages being learned / used and maybe just maybe Irish (Gaelic) was another one of the languages that were being learned and / or used (the mixed martial artist Conor McGregor was possibly the dream character learning and / or using Irish (Gaelic), and several dream characters were involved in this and I was probably involved as well depending on the dream or the part of the dream.
There is a possibility that one or more of these dream characters were possibly involved in one or more theft or robbery situations with that dream character or those dream characters as the thief (thieves) / robber (robbers), possibly Conor McGregor was doing this for fun, but I can not remember if that is correct or not.
The next thing that I remember is watching an outdoor MMA (mixed martial arts) event (maybe the UFC (Ultimate Fighting Championship)) that was taking place in a field, but I can not remember if I was there or not as I watched it.
There were two male ring announcers commentating, the referee was a man with light-color skin, and Conor McGregor was about to fight another man.
Mr. McGregor was completely overconfident and was way too relaxed, and he was bouncing around smiling like he expected to win this fight very easily and quickly so he was not worried at all and he was not taking this fight seriously at all.
After the pre-fight stuff it was time for the fight, the fight started, and Mr. McGregor was still smiling and bouncing around running in to attack with his head leaning forward without blocking and he kept having his guard (hands) down not protecting himself.
I remember the ring announcers talking about how Mr. McGregor was fighting very stupidly by charging in with his head forward not blocking or guarding himself, and they said that he was risking getting knocked out (unconscious).
Mr. McGregor's opponent did a good job avoiding Mr. McGregor's charge-in attacks, and he was countering well.
At some point Mr. McGregor's opponent took advantage of Mr. McGregor not guarding himself or blocking and constantly pushing forward with his head exposed by either knocking Mr. McGregor unconscious or he choked Mr. McGregor unconscious with a chokehold, I am not sure which, I just know that Mr. McGregor was unconscious on the mat and his opponent won the fight.
The ring announcers talked about how Mr. McGregor lost this fight because of fighting stupidly and by not taking the fight seriously because of his overconfidence et cetera, and Mr. McGregor was possibly still unconscious on the mat as the officials checked on him.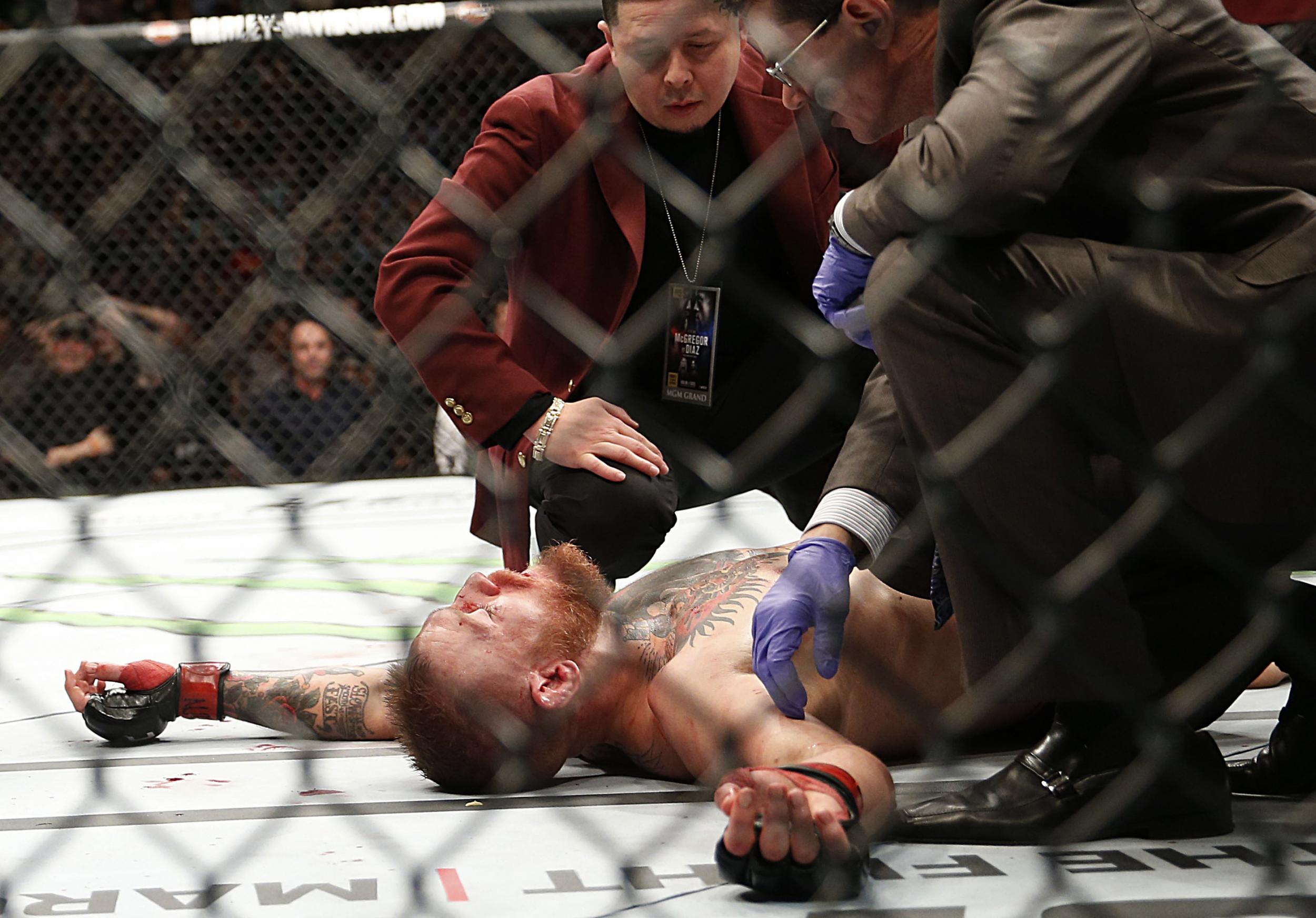 But I woke up.
Dream 2
All that I can remember of this dream is that I was looking at a bookshelf or cart with some books on it, the books had labels on them, and I remember reading the labels and I could see the words and letters on them but I woke up.
I woke up remembering the exact letters (most of the books had the same letters) and the words (one of the books had a lot of words that were like a title or phrase), but I forget this when I was washing my face before going to voice record my dreams.
The end,
-John Jr